Our full-service packing services are convenient and hassle free.
Packing everything up for a move takes a lot of time and effort. You have to find boxes, buy packing supplies, and find time to get everything packed up. Then there is deciding what needs to be packed together and how to pack everything efficiently. You might be wondering how to pack dishes or mirrors to make sure you don't end up unpacking a box full of cracked and broken items. At Ashe Van Lines Moving & Storage, we offer full-service packing services that will take all of the guesswork out of packing. We will save you a lot of time and frustration by packing everything for you.
We offer full-service packing to all our customers in Boone, North Carolina and the surrounding areas. We would love to help you pack for your next move. We do residential and commercial packing, so we can pack up your home or business for you. Our team of experienced packing experts can have everything packed in a fraction of the time it would take you to pack everything yourself. We offer things like crate packing, fragile packing, commercial packing and more. No matter what you need to move, we can find a great way to get it packed without causing any damage. We pack everything with the utmost care, making sure it's packed neatly and correctly. We keep everything organized and labeled so you can find things easily.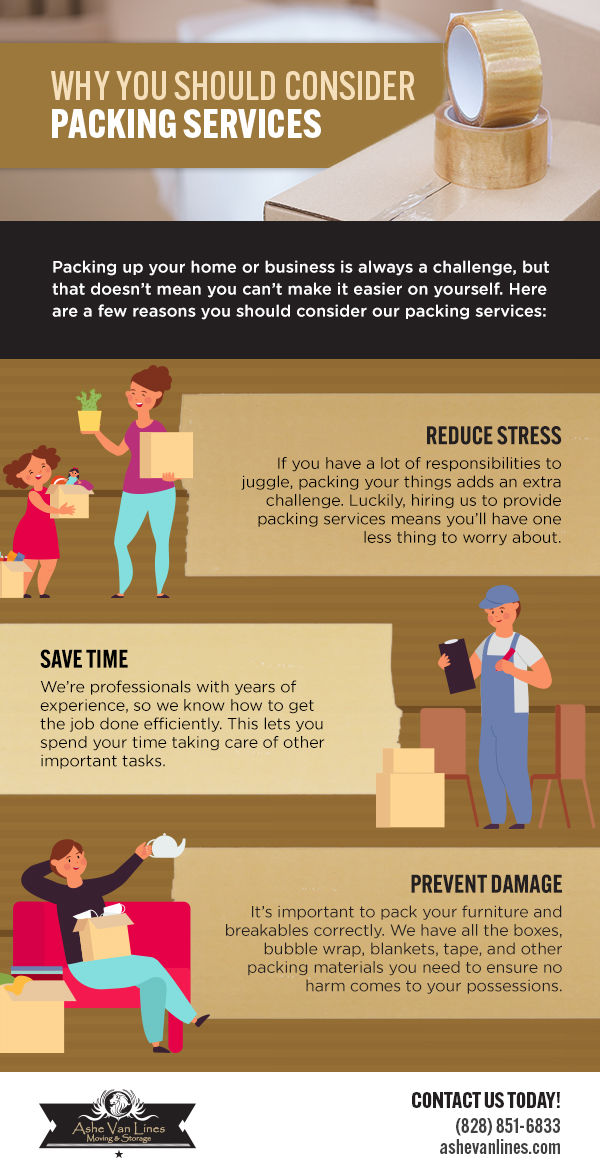 Reach out to us today if you would like to hear more about our full-service packing options and what we offer to help you get everything packed for your big move. We are very reliable, trustworthy, and experienced, and we will work hard to pack everything carefully so it doesn't get damaged. We do great work, and having us pack for you can eliminate a lot of stress and help make moving a little bit more enjoyable and hassle free.
---
At Ashe Van Lines Moving & Storage, we offer full-service packing services in Hickory, Gastonia, Mooresville, Huntersville, Denver, Morganton, Asheville, Concord, Boone, Lincolnton, Burke County, Caldwell County, Catawba County, Gaston County, and Lincoln County, North Carolina.