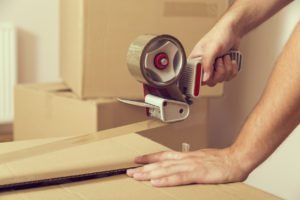 Do you hate packing? You're not alone. Packing is easily the most stressful part of moving. Figuring out how to pack fragile items is frustrating, and then you have to figure out how you're going to get enough boxes to pack it all. But you can relieve that stress by getting the professional packing services we offer at Ashe Van Lines Moving & Storage.
Packing is tedious, and you've got other things to worry about during a move than which box to label "kitchen" and which to label "bedroom". When you employ our professional packing services, you can relax knowing that we will carefully pack, label, and unpack your belongings safely. You'll know that even your fragile items are safe because we have the materials and experience to do it right.
Let's set aside tedium for a moment and talk about time. Packing can be extremely time-consuming, and when you're moving, time can be an asset. Save yourself some time by having us do the packing for you. We do this every day, and if practice makes perfect, then we have perfected the art of packing.
Furniture is often one of the most difficult things to pack effectively. Aside from being large and heavy, some pieces may need to be disassembled to move and reassembled at your new home. We have the tools, equipment, and know-how to safely move your furniture. When you use our professional packing services, we take special care to ensure that your furniture arrives at your new home in the same condition it was in before your move.