Take a load off with our full-service packing service.
Moving is a trying and time-consuming experience. Even if you are thrilled to be moving into a new city or new home, packing, loading and unpacking your belongings takes hours of time and planning. Furthermore, there are loads of other tasks and paperwork to complete when it comes to moving your bills and utilities. If you are thinking of moving soon in the Hickory, North Carolina area, one of the best calls you can make is to our moving experts here at Ashe Van Lines Moving & Storage. We offer a variety of moving services, including full-service packing that will help make your next move an easy one.
Our full-service packing services allow you to put your belongings in our professional hands. We understand from years of experience how to pack anything and everything, including things like fragile items, antiques and valuables. We are able to work through your home or apartment quickly and efficiently to box or crate items and ensure their safe transit to your new place. Because of our experience, we can perform even delicate packing tasks with efficiency.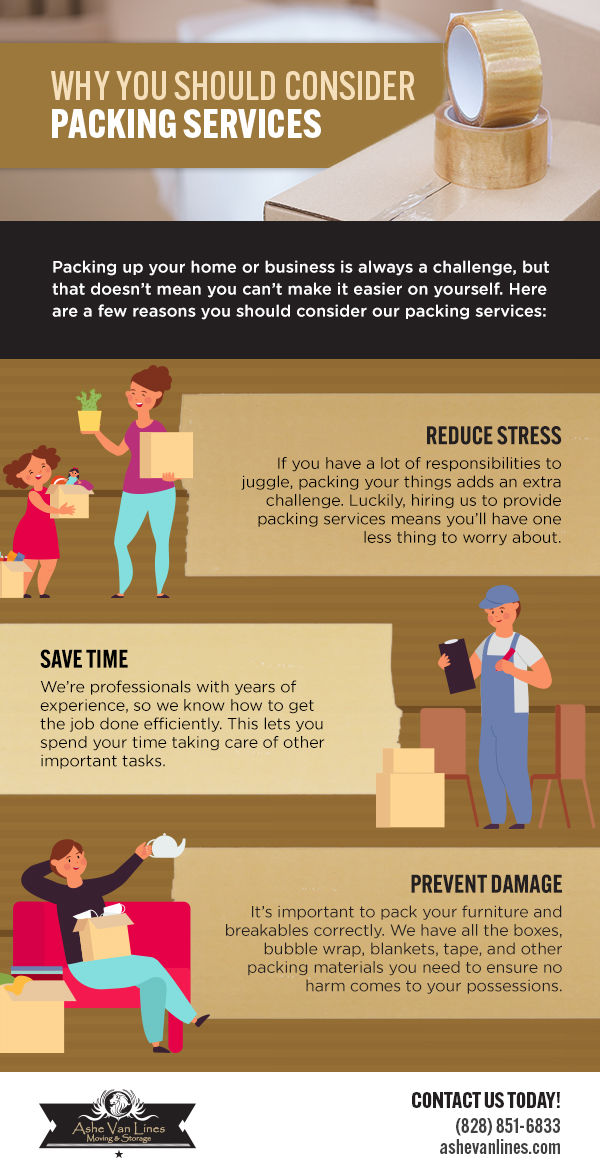 When you choose our full-service packing service, we'll free up your time so that you can concentrate on other pressing tasks. We provide the materials that will be used during your packing, including the boxes, wrapping, paper and tape so that you don't need to worry about running out of supplies. Furthermore, we label your boxes so that none are misplaced, and every item is properly catalogued. If you have questions or would like to learn more about full-service packing, please contact us today.
---
At Ashe Van Lines Moving & Storage, we offer full-service packing services in Hickory, Gastonia, Mooresville, Huntersville, Denver, Morganton, Asheville, Concord, Boone, Lincolnton, Burke County, Caldwell County, Catawba County, Gaston County, and Lincoln County, North Carolina.